Lawn Care Services in Columbus, Cleveland, Westerville, & Nearby Areas in Ohio
We'll help your lawn thrive and we can even tackle turf diseases and insects!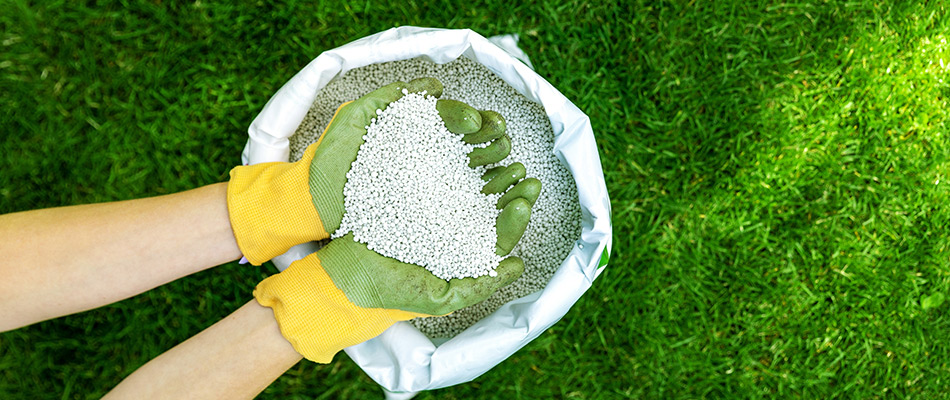 At Lawn Control Center, we help property owners in and around Columbus, Cleveland, and Westerville, OH achieve their dream lawn with our top-notch lawn care services! We'll help your lawn thrive with lawn fertilization and aeration services, and we can even tackle turf diseases and insects with our respective treatments. Healthy, beautiful lawns - here we come!
Lawn Fertilization

Our multi-step lawn care program includes several balanced fertilization treatments to provide your turf with all the nutrients it needs to grow healthy, beautiful green grass all year.

We use slow-release, granular fertilizer that gradually supplies nutrients to your turf over time.

Weed Control

We'll prevent and eliminate crabgrass, dandelions, henbit, clover, and other pesky weeds with our pre-emergent and post-emergent weed control treatments.

Aeration

Compacted soil is inevitable, but it can inhibit your turf's ability to absorb nutrients. Fortunately, our core aeration service is just what you need to loosen it and get your lawn back on track.

Overseeding

We use a blend of Kentucky bluegrass, ryegrass, and fescue seeds for our overseeding service. Overseeding will fill bare and patchy areas on your lawn with new, healthy grass growth.

Slit Seeding

We can help your struggling lawn grow healthy grass with our slit seeding service. We'll plant our seed blend in the slits we create in your soil to protect them and encourage direct seed-to-soil contact.

Soil Conditioning

If your soil is acidic, our soil conditioning treatment will balance its pH level and improve your turf's ability to absorb nutrients.

Leaf Spot Control

Schedule our curative leaf spot control treatments to stop this harmful lawn disease in its tracks.

Dollar Spot Control

Dollar spot shows up on your lawn as irregular circular patches of brown grass; it can damage your lawn and drag down its curb appeal. Fortunately, we can eliminate this lawn disease with curative dollar spot control treatments.

Red Thread Control

As the name implies, symptoms of this lawn disease present as red vein-like threads across your turf. If you notice this on your lawn, we can help it recover with our curative red thread control treatments.

Chinch Bug Control

Chinch bugs are a nuisance, but they won't stand a chance against our curative chinch bug control treatments!

Armyworm Control

We'll monitor your turf for any signs of insects during our scheduled lawn care visits, including armyworms. If we spot any, we'll immediately apply our armyworm control treatments to eradicate the population.

Sod Webworm Control

Sod webworms will continue to damage your lawn if left untreated, but we can stop them with our highly effective sod webworm control treatments.

Grub Control

Because grubs feed on your turf's roots, signs of a grub infestation include your lawn lifting like a carpet when you pull on it and the surface feeling spongey when you walk on it. We can tackle a current infestation with our curative grub control treatments, eliminating them so your turf can get back on the right track. We can also prevent future infestations with our preventative grub control treatments, which we'll apply early in the growing season to get ahead of them before they hatch.
---
Sign up for any of our lawn care services today.
At Lawn Control Center, we offer everything your turf needs to stay beautiful and healthy year-round with our lawn care services! We offer lawn fertilization, weed control, aeration, and other services to residential, commercial, and HOA properties in and around Columbus, OH, including Cleveland and Westerville. Call us at (888) 421-0601 to sign up for any of our services today.